Ganz schön feurig
Die beiden "Flamme fatale" überzeugten mit ihrer Körperbeherrschung und Anmut, brachten mit langen Fackeln jonglierend einen Hauch Erotik auf den Marktplatz.
more
Borkener Zeitung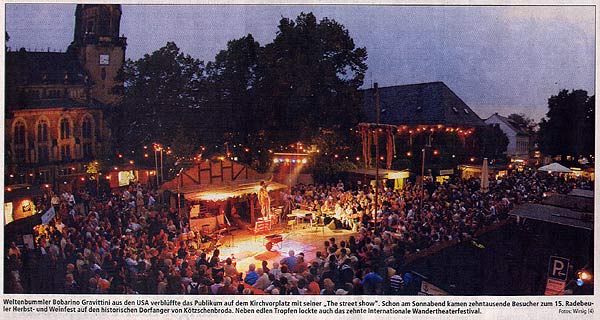 Sächsische Zeitung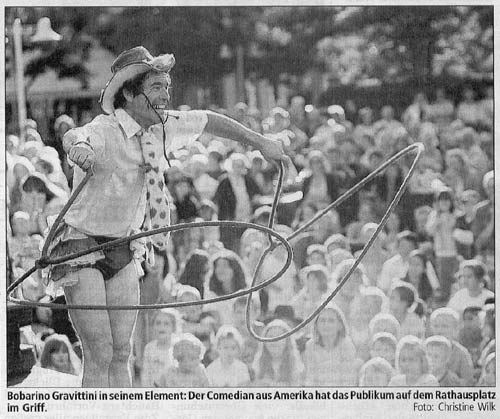 Münchener Merkur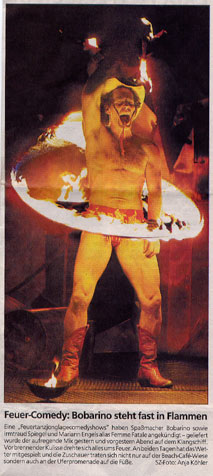 Feuer-Comedy: Bobarino steht fast in Flammen
"Eine Feuertanzjonglagecomedyshow" haben Spaßmacher Bobarino sowie Irmtraud Spiegel und Mariann Engels alias Flamme Fatale angekündigt - geliefert wurde der aufregende Mix gestern und vorgestern Abend auf dem Klangschiff. Vor brennender Kulisse drehte sich alles ums Feuer. ..."
Schwäbische Zeitung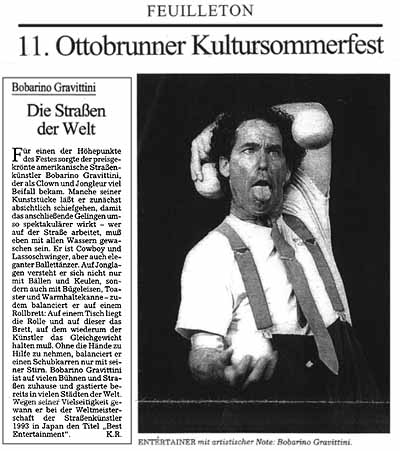 Bobarino: Fringe at its best
Take the kids, take your granny, take your pet rock, but take someone to see Bobarino Gravittini! This man deserves a big audience. With his India rubber legs and Marceau-like face, he clowns, juggles, jokes, dances and balances his way into our hearts for 40 minutes. They go too soon.
This is the man who balances a full-sized metal wheelbarrow on his head, juggles an iron, toaster and, I think, it was a squashed teapot, all at the same time, and has a finale that has to be seen to be believed. He also tosses off some pretty cool lasso spinning and gives mouth-to-mouth resuscitation to an alligator.
Bobarino, part of what looks like being the best Festival Fringe yet, will make you laugh your troubles away. And isn't this what we go to the theatre for – to be entertained, to be amazed and to be taken somewhere else?
Ann Hunt / Wellington Repertory Theatre
"He's better than Bozo."
Kid in Boston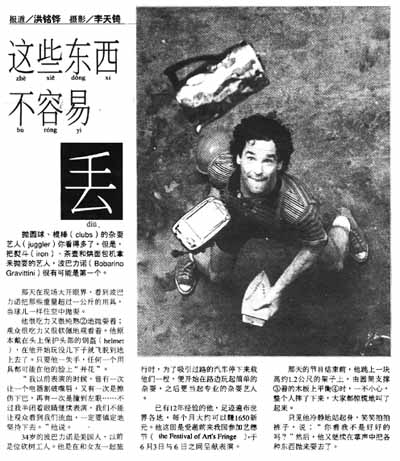 "Call him a juggler and you are only getting half the picture – Bobarino Gravittini is a comedian, entertainer, actor and visual spectacle all rolled into one. If all you can remember of jugglers is that they throw balls and clubs into the air and try to catch them, the Gravittini performance will be a treat."
Singapore Festival of the Arts
"We highly recommend Bobarino as a vaudevillian performaer with wit, talent and an overall wonderful personality."
Carolyn Tick / Director - First Night, Providence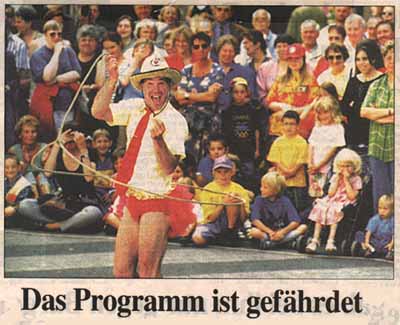 "Saving the absolute best for last lets talk about Bobarino Gravittini. Quite the model "lone wolf" foraging a one man army of talent range and rage."
Robert Nelson / Juggler's World